Beautiful bookstores in Gita's topic got me thinking about books, of all things.  Possibly one of the best things my dad ever did for me and my brother was signing us up for Weekly Reader. Never knew what was going to be inside that flat cardboard box sitting on the kitchen table. I recall many of the stories, but lately I've been thinking about the colors of the covers themselves--vivid blues or magenta or slime green. 
Who wouldn't want to pick up a book that looked like this: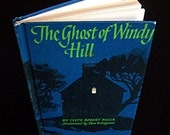 Then there were the book sales in the library crawl space in middle school. Neat stacks of undog-eared, perfectly flat, crisp books begging to be brought home, like this one:  
Some of the books were assigned reading, of course, and who in their right minds actually read that stuff and wrote their reports, anyway? Only dorks really read and tried to grasp "Thus I Refute Beelzy" or "Hiroshima." 
What books from your childhood set you on a lifelong path to being a reader?  Are the stories and colors still vibrant with you today?